Maidenhead United FC Heritage Collection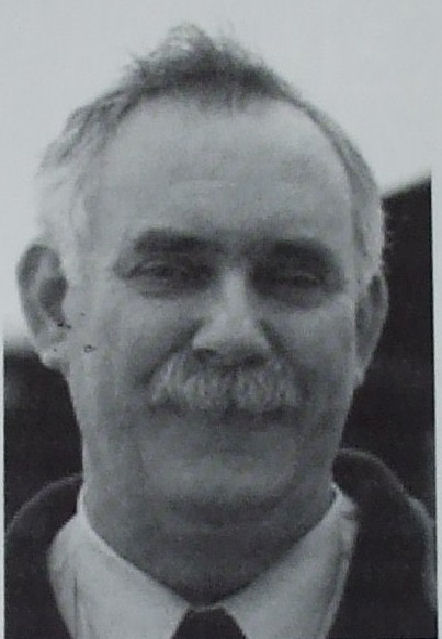 This website is dedicated to the memory of Richard Jackson – a loyal supporter and former committee member who passed away suddenly on Saturday, 8th September 2007, aged 62. Richard undertook endless tasks on behalf of the Football Club and typeset every syllable in the first two books on my behalf and without his invaluable contribution, these could not have been produced.
ADDED IN JULY 2015 –
MATCH REPORTS FROM 1919/20 SEASON to 1949/50 SEASON
THE RICHARD FOUNTAIN COLLECTION THE JACK PALETHORPE COLLECTION
NEW ADDITIONS TO THE BADGES OF MAIDENHEAD UNITED FC
The site is sponsored by
Thakrar Coombs
and grateful thanks are due to Roger and Jean Coombs for all of the time and effort they have expended on behalf of the club.
SITE NAVIGATION
Navigate the site using the buttons on the left hand side.

The programme collection is available to view via the "Pre-War Programmes" (1919-1945) "Corinthian League" (1945-1963) "Athenian League" (1963-1973) "Isthmian League" (1973 – 2004) "Conference League" (2004-2006 and 2008-2015) "Southern League" (2006/07)
SOME OF THE IMAGES HAVE STILL TO BE ADDED – PLEASE VISIT US AGAIN SOON AS WE CONTINUE TO UPDATE THE SITE
THE COMPLETE RECORD OF THE FOOTBALL CLUB...
"ONE FOR SORROW, TWO FOR JOY"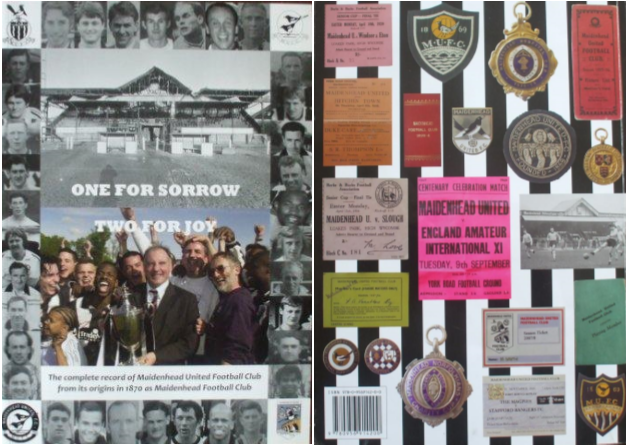 The book includes:
The Early Officers from 1870 – 1914;
A comprehensive narrative history from 1870 – 1894;
Results of competitive matches from 1870 – 1894 including dates, scorers and line-ups;
A season by season appearance list from 1894 – 1914;
The other clubs in the town pre Great-War - Maidenhead Excelsior, Maidenhead Band of Hope/Temperance, Maidenhead Norfolkians - are featured but not with the detail afforded to Maidenhead FC;
Results of every known friendly match played by the club from 1870 – 2011 including dates and scorers - Match attendances are included where known;
A précis of each season from 1894 to 2011 with an accompanying results and appearance grids of every competitive match played. Each season is afforded two pages;
A final league table for each season is included where known. This features the following leagues that the club competed in (at 1st, Reserves and Youth level): Southern League, South Bucks & East Berks League, Wycombe & District Combination League, Great Western Suburban League, Berks & Bucks League, West Berks League, Spartan League, Reading & District League, Great Western Combination, Corinthian League, Windsor, Slough & District League, Athenian League, Wycombe Floodlight League, Premier Midweek Floodlight League, Isthmian League, Isthmian League Youth Cup Leagues, Maidenhead, Slough & District Sunday Industrial League, Middlesex Border League, Allied Counties League, Capital League, Suburban League, Hellenic League Reserve Division 1, Conference South;
A biography and photograph of each Officer of the Club from 1919 – 2011 that has held the position of President, Chairman, Treasurer and Secretary;
Over 100 mini biographies of former players;
A list of dates, results and scorers from competitive matches against all opponents from 1919 – 2011 in an A – Z format;
A season by season appearance list from 1919 – 2011;
An A – Z appearance list;
The evolution of the club programme from 1921 – 2011 with a season by season guide to every known programme issued from 1945 - 2011.
The book is illustrated with hundreds of images (photographs, line drawings) of teams, players and items from the Heritage Collection and other sources.
It costs £19.95p + £3.30p postage and packing (total £23.25p) and can be purchased from Mark Smith, 5 Jacob Close, Windsor, Berkshire, SL4 5PT. Please make cheques payable to Mark Smith
Alternately, it can be bought at the Maidenhead Heritage Centre, 18 Park St, Maidenhead, Berkshire, SL6 1SL – open 10am – 4pm, Tuesday to Saturday inclusive. http://maidenheadheritage.org.uk/
I

THE "WANTED" LIST HAS BEEN UPDATED – PLEASE CHECK TO SEE IF YOU CAN HELP

If you have an items related to Maidenhead Utd FC then please look at our wanted item list.
Get in touch with us via the "Contact us" button. (Mark Smith, Curator of the Maidenhead United FC Heritage Collection)
RECOMMENDED LINKS

For all things "Non-League", visit the excellent www.nonleaguematters.co.uk
Richard Lambert's superb site on Epsom & Ewell FC and its predecessors as well as a wonderful archive of various League results and fixture grids:
http://www.eefconline.co.uk/base4.html
Chris Byrne has produced an impressive site on the history of Oxford City FC:
http://citystats.moonfruit.com/
Maidenhead United Football Club:
http://www.pitchero.com/clubs/maidenheadunited/
Last updated:- Tuesday, August 02, 2016