"Jack Palethorpe collection"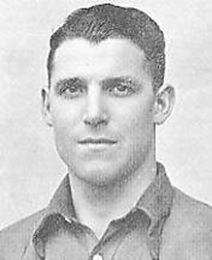 A club record haul in 1929/30 season of 65 goals in just 39 matches sets Jack Palethorpe aside from any other Maidenhead United player. Although he played just 44 times for the club, his goalscoring spree is a club record that will probably never be surpassed.
Palethorpe was born in Leicester but spent most of his life in Maidenhead. His footballing career began at the age of 17 with Furze Platt whilst working as a fitter at the local gas works. He joined the Magpies at the start of 1927/28 season, and was a prolific scorer for the Reserve team – he progressed to the 1st team towards the end of that season and made five appearances scoring three times.
In 1929/30 season he scored in thirty of the 39 matches he played and his total of 65 goals included three hat-tricks, one four goal haul, one five goal haul and a post-Great War 1st team individual record of goals in one game when scoring seven against Wood Green Town on 24th April 1930. His efforts were rewarded with a County Cup winner's medal that season but his antics had alerted many senior clubs and he signed for Reading in 1930.
He then moved to Stoke City – where he played with Sir Stanley Matthews – then onto Preston North End and Sheffield Wednesday with whom he won a FA Cup winners medal in 1935 scoring after just two minutes of the Owls 4-2 victory against West Bromwich Albion.
After the Second World War, Jack worked as a Cabinet Inspector for Dynatron Radio at Furze Platt and lived locally in Sunderland Road and passed away on June 6th 1984 aged 74.
1st team playing record: Appearances 44, Goals 68
at Stoke City, 1932-33 season
Stoke City celebration dinner. May 1933
-Stoke City celebration dinner. May 1933
at Sheffield Wednesday, 1934-35 season
Telegram from Maidenhead United
FA Cup final 1935 v West Bromwich Albion
Introduced to the Prince of Wales
Jack Palethorpe with his FA Cup final shirt
The actual shirt he wore in the 1935 final
The Club Crest on the shirt
The FA Cup winners medal
The FA Cup winners medal
The FA Cup winners medal
1935 FA Cup final Blazer Badge
1935 FA Cup final enamel badge
Sheffield Wednesday FA Cup winners, 1934-35
1935 FA Cup final Sheffield Wednesday souvenir mug
1935 FA Cup final Sheffield Wednesday souvenir mug
Supporters Club Cup Final Souvenir
1966 Sheffield Wednesday Cup Final tie
1966 Sheffield Wednesday Cup Final Itinerary
Official passes for Mr & Mrs Jack Palethorpe
Jack Palethorpe Football Card
Jack Palethorpe Football Card
Jack Palethorpe Football Card
Jack Palethorpe Football Card
Former Maidenhead United Captains reunion 1972 (Palethorpe fourth from left, back row)